Will Obama's lame-duck dealmaking survive in the new year?
Even with the deep partisan divide, Obama and Congress worked together in the lame-duck session. But pressure on the president from the left and right will grow in the new year.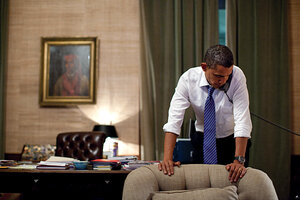 Pete Souza/White House
President Obama and Congress proved during the lame-duck session that they can work together to resolve big and thorny issues, but that remarkable show of bipartisanship in all likelihood will be short-lived.
The Democrats don't own the House anymore, and their Senate majority is smaller. In securing the $858 billion tax-cut and unemployment-benefit package, Mr. Obama cashed in his one big bargaining chip with the Republicans: allowing the Bush-era tax cuts to continue even for the wealthiest taxpayers. He also infuriated his liberal base.
"He doesn't have much to bargain with come January," says historian Julian Zelizer, at Princeton University.
Caught between an empowered right and a balky left, Obama appears to be in a bit of a box. But predictions of total gridlock in the 112th Congress may be premature. In fact, analysts say, Obama and the Republicans both need to accomplish two things: show they can govern while also drawing lines in the sand. So over time, expect a combination of collaboration and conflict. Obama can also avoid Congress altogether, changing policy by executive order and using the bully pulpit to try to shape public opinion.
---