Jerry Brown sets no-nonsense tone for California in inauguration speech
Gov. Jerry Brown urged lawmakers of both political parties to get out of their comfort zones and rise above ideology for the good of the state in a 16-minute inauguration speech Monday.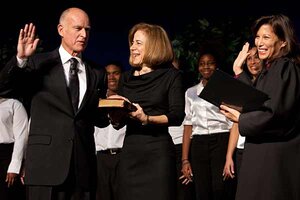 Robert Durell/Reuters
Although nearly giddy with obvious delight, Jerry Brown was all business in his 16-minute inaugural speech today. Experts say he wants to set the tone – especially in his crucial first 100 days – that he intends to be a no-nonsense, practical governor who won't squander political capital the way predecessor Arnold Schwarzenegger did, missing early opportunities to take action before goodwill wanes.
"The year ahead will demand courage and sacrifice," Governor Brown said after taking the oath from California Supreme Court Justice Tani Cantil-Sakauye. Brown noted the strain the recession has put on California and referred to polls that show most voters believe the state is on the wrong track. He urged lawmakers of both political parties to get out of what he called their "comfort zones" and to "rise above ideology" for the good of the state.
His main themes were drawn from his campaign stump speeches: no new taxes without a vote of the people, restoring as much local control of government as possible, and speaking the truth about the budget – no smoke or mirrors. He spoke of the sacrifices of his own ancestors, crossing the continent in a covered wagon, invoked the name of his own father, former Governor Pat Brown several times, and introduced his 99-year-old aunt as evidence that he's not going anywhere.
---