Health-care reform in cross hairs: Could it survive without individual mandate?
Both Republicans and some judges say the health-care reform individual mandate – that all Americans must buy health insurance – is unconstitutional. If they are right, is President Obama's signature achievement doomed?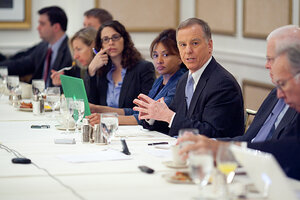 Michael Bonfigli/Special to The Christian Science Monitor
Supporters of President Obama's health-care reform are holding their breath as legal challenges to the individual mandate – the requirement that by 2014 virtually every American purchase health insurance or face penalties – work their way up to the US Supreme Court.
The mandate, they argue, is essential to creating a big enough pool of healthy individuals to cover the insurance industry's rising costs, because the law requires that insurers take all comers, regardless of preexisting conditions.
But Howard Dean, for one, isn't so concerned. At a Monitor breakfast Wednesday, the former national Democratic chairman and former governor of Vermont called the mandate "unnecessary." Mr. Dean, who is also a physician, cites his state's experience nearly 20 years ago in getting most children under 18 insured, without a mandate.
At the federal level, Dean says, "I don't think the mandate is unconstitutional, but i don't care if it is or not." Already, the law allows young adults up to age 26 to be covered on their parents' policy, which takes care of a demographic group that was least likely to have insurance. There are other ways to incentivize people to buy insurance, he says.
One way is to have an annual enrollment period, as with employer-provided health coverage, such that people can purchase insurance only during a limited time window. That would prevent people from buying insurance only after they become sick or have an accident. They would have to pay their health expenses out of pocket.
"If something bad happened to you, you could be forced into bankruptcy," Dean says. "That would wake some people up."
---