William Daley: Obama signals shift to center with pick for chief of staff
Obama brings aboard William Daley, a moderate Democrat and fellow Chicagoan, as his new chief of staff. Daley, seen as a tough but fair manager, could help White House ties to the business community.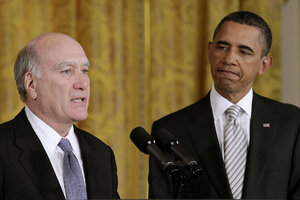 J. Scott Applewhite/AP Photo
President Obama's selection Thursday of William Daley as his new chief of staff brings a senior, politically experienced figure into the White House inner circle, and sends a clear signal of the administration's shift toward the center.
Mr. Daley, who served as commerce secretary under President Clinton, is currently a senior executive at JP Morgan Chase in Chicago, and could help Mr. Obama in his efforts to improve relations with the business community. A scion of the storied Chicago political family, Daley comes from the moderate wing of the Democratic Party, a point that irritates some liberals.
Daley's selection also invites charges that Obama, also a Chicagoan, is retooling his administration around the city's political "machine." But in fact, Obama and Daley don't know each other well, and it may be fairer to suggest that Daley brings an outsider's eye to a White House that has been accused of insularity.
---