Why Jared Loughner was allowed to buy a gun
Despite evidence that Arizona shooting suspect Jared Loughner is mentally unstable, he was never declared mentally unfit by a court, so his name did not appear in the federal background-check database used by gun sellers.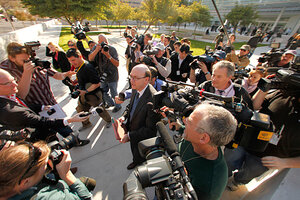 Charlie Riedel/AP
Evidence is mounting that Arizona shooting suspect Jared Loughner was mentally unstable – and yet he was still allowed to purchase a gun legally.
The federal Gun Control Act of 1968 prohibits the possession of firearms by the mentally ill. So why was Mr. Loughner able to guy a gun?
The ability to own a firearm is a constitutionally protected right, and depriving someone of that right involves a legal process. Under the 1968 law, a person must be declared mentally unfit by a court or have been committed to a mental institution to lose his or her right to possess firearms.
Arizona shooting: Seven times politics turned to threats or violence last year
In 1993, the Brady Handgun Violence Prevention Act required the establishment of a national database known as the National Instant Background Check System (NICS), where the names of people ineligible to possess firearms are to be entered.
According to the Federal Bureau of Investigation, such information is provided to the NICS Index by local, state, tribal, and federal agencies.
Loughner's background check
---