As portrait of Jared Loughner sharpens, 'vitriol' blame fades
The suggestion that the shooting of Rep. Gabrielle Giffords Saturday might have been influenced by political 'vitriol' seems less likely as more becomes known about suspect Jared Loughner.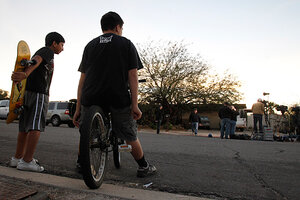 Ross D. Franklin/AP
The wave of national soul-searching about the level of political vitriol and how it might have played a part in Saturday's shootings in Tucson, Ariz., now appears to be ebbing.
Following the shooting, which left six people dead and apparently targeted Rep. Gabrielle Giffords (D) of Arizona, Pima County Sheriff Clarence Dupnik suggested that "vitriol ... about tearing down the government" might have played a part. Rep. Robert Brady (D) of Pennsylvania has followed that lead, promising a bill that would outlaw threatening language against lawmakers.
But emerging information about primary suspect Jared Loughner suggests that he was motivated not by a climate of hate but rather by his own troubled mind and a personal vendetta against Congresswoman Giffords, who was injured in the attack. The investigation has not concluded, and more information could come to light. But for now, a majority of Americans are dismissing the notion that the shooter was set off by a Sarah Palin political map, tea party anger, or talk about "second amendment remedies."
A CBS poll Tuesday showed 57 percent of Americans don't believe political rancor played any role in the attack, with a plurality of Democrats, Republicans, and Independents agreeing.
---