Obama calls for unity, humility at Tucson memorial
At a memorial for the victims of the mass shooting in Tucson, Ariz., Saturday, President Obama sought to move beyond finger-pointing to healing. He said of 9-year-old Christina Taylor Green, who was killed: 'I want to live up to her expectations.'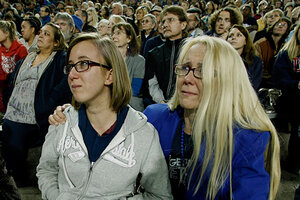 Charlie Riedel/AP
Speaking at a memorial service at the University of Arizona in Tucson, President Obama honored the victims of last weekend's shooting rampage in that city, sharing thoughts about those who had died and lauding the heroic behavior displayed during and after the attack.
Mr. Obama also spoke of the ideal of representative democracy; Saturday's shooting had taken place at a meet-and-greet for constituents – called "Congress on your Corner'' – hosted by Rep. Gabrielle Giffords (D) of Arizona, who was gravely injured in the attack.
Obama stunned the assembled crowd by revealing that Congresswoman Giffords had opened her eyes for the first time since the attack right after the president and his wife visited her in her hospital room. Giffords's husband, space shuttle commander Capt. Mark Kelly, sat next to Michelle Obama in the front row.
But amid the expressions of hope and mourning, the president also dove into the national controversy over whether political passions and inflamed rhetoric had created a climate conducive to the attack by the gunman.
---