Health-care reform: How Democrats plan to crash House GOP's repeal party
As Republicans move to vote Wednesday to undo Obama's health-care reform bill, Democrats are posing a question to new House members: What would repeal mean to their constituents?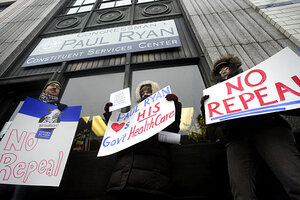 Scott Anderson/Journal Times/AP
After a week's pause in response to the Tucson shootings, House Republicans are moving quickly toward a vote Wednesday to repeal President Obama's signature health-care reform legislation.
The move to repeal the legislation – a key pledge of most GOP congressional campaigns – is on track to pass the House on a near party-line vote, then grind to a halt. Senate majority leader Harry Reid has already signaled that he won't take a House repeal bill to the floor. Even if it cleared the Senate, the White House has promised to veto it.
"It isn't a serious legislative effort," said White House press secretary Robert Gibbs at Tuesday's press briefing. "I don't think it's going anywhere."
Still, House Democrats and the Obama administration are mounting a strong, 11th-hour bid to shift the outcome. On Tuesday, the Department of Health and Human Services released a report that estimated that up to 129 million Americans have preexisting conditions that could deny them insurance coverage, if consumer protections in the new law were repealed.
At the same time, Reps. Henry Waxman of California and Frank Pallone of New Jersey, top Democrats on the House Energy and Commerce Committee, released data on the impact of repeal on each congressional district.
---