House votes to repeal health-care reform: What happens now?
Though the House has repealed health-care reform, it won't be repealed by the Senate, meaning the effort is virtually dead. But House Republicans can still try to dismantle the law by other means.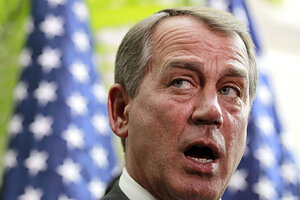 Alex Brandon/AP
The struggle over the future of health-care reform is just beginning.
After what Speaker John Boehner dubbed "a spirited but respectful debate," the House voted 245 to 189 Wednesday to repeal President Obama's signature domestic achievement – health-care reform.
But with Senate Democrats opposed to allowing a floor vote on the bill – and a president sure to veto it – the near party-line vote is the likely high-water mark for repeal in this Congress.
Wednesday's vote kicked off an offensive on both sides of the aisle – and within parties – on what House majority leader Eric Cantor of Virginia called "a better way forward."
For House GOP leaders, the next phase will include the intense oversight of all aspects of the vast reform legislation while simultaneously attempting to dismantle it, brick by brick.
---