Joe Lieberman announces the end of his complex political career
Sen. Joseph 'Joe' Lieberman will not seek re-election. His retirement makes life easier for Democrats, who now have a better chance of hanging onto his seat.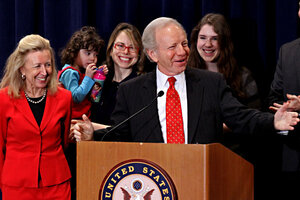 Craig Ruttle / AP
The decision by Sen. Joseph Lieberman (I) of Connecticut not to run for reelection in 2012 marks the beginning of the end of a storied political career.
After all, how many politicians were their party's vice-presidential nominee, and then made the short list for the opposing party's vice-presidential selection just eight years later?
That, in a nutshell, captures the complexity of four-term Senator Lieberman, who spent most of his career as a centrist Democrat, then in recent years grew alienated from his party. He ended up in the political netherworld of an independent who caucuses with the Democrats, but only votes with them on some issues. He is a fierce defender of the US wars abroad, and last month, just as fiercely led the charge to repeal the military's "don't ask, don't tell" policy that barred gays from open military service.
In his retirement announcement, delivered Wednesday in a hotel room in his birthplace of Stamford, Conn., Lieberman said his reason is "best expressed in the wise words from Ecclesiastes: 'To everything there is a season, and a time to every purpose under Heaven.'"
He acknowledged that he hasn't always fit into "conventional political boxes," but said that wasn't the most important aspect of public service.
"I have always thought that my first responsibility is not to serve a political party but to serve my constituents, my state, and my country, and then to work across party lines to make sure good things get done for them," Lieberman said. "Whatever the partisan or policy differences that divide us, they are much less important than the shared values and dreams that unite us and that require us to work together to make progress for all. To me, that is what public service and leadership is all about."
---