Hu faces critics in Congress, economic pressures back in China
China's President Hu met with US congressional leaders Thursday, amid reports that his country's economy may be overheating, driving up inflation. Is export-dependency the root of the problem?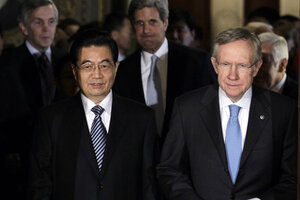 Carolyn Kaster/AP
For all its strengths, China's economy confronts a difficult squeeze that was on display Thursday as President Hu Jintao held closed-door meetings with members of Congress in Washington.
Mr. Hu met with congressional leaders who are less patient than President Obama over alleged unfair trade practices by China. If Beijing won't change its currency policies, US lawmakers are threatening that America could impose financial penalties on "Made in China" imports.
Hu also confronts pressures at home. The need to generate new jobs tilts policymakers toward the status quo – a push to promote exports and to invest in China's infrastructure. But growth numbers from China's government Thursday also amplified concerns about inflation and possible "overheating." Those concerns could nudge Chinese leaders, over time, toward reforms designed to stabilize the economy.
IN PICTURES: Hu Jintao's Washington visit
The competing pressures underscore that China's economy has significant weaknesses, even at a time when Americans are prone to view China as the world's leading economic power. (In a Pew Research Center poll this month, 47 percent of Americans gave that title to China, while 31 percent chose the United States.)
---
Follow Stories Like This
Get the Monitor stories you care about delivered to your inbox.