Obama's job approval rebounds in latest polls, but can it last?
The latest polls show Obama's job approval back up to 50 percent. His response to Tucson and the bills passed by the lame-duck Congress are credited, but the economy remains a challenge.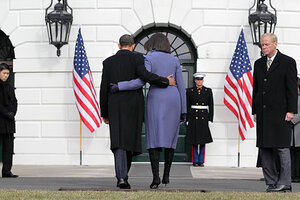 J. Scott Applewhite/AP/File
On the second anniversary of his inauguration – and days before his State of the Union address next Tuesday – President Obama is on the rebound with the American public.
A slew of major polls now show Mr. Obama with more public approval than disapproval of his job performance, many of them putting him over the 50 percent mark. A survey of the latest polls by RealClearPolitics shows Obama averaging 50 percent approval versus 45 percent disapproval. The last time the positive outweighed the negative was in July. The last time that gap was at least 5 percentage points was a year ago.
Pollsters attribute Obama's rebound to his response to the Tucson shootings, some positive economic trends, and the burst of bipartisanship in last month's lame-duck session of Congress. But, they warn, this surge could be fleeting, as unemployment remains stubbornly high and the feeling of national unity post-Tucson fades.
RELATED: Six big achievements of a surprisingly 'do something' Congress
"It's a remarkable turnaround for a president so recently hammered in the 2010 midterm elections," write Gary Langer and Julie Phelan in an analysis for ABC News. "Yet the public's mood remains glum, with attendant, continuing hazards for the president and Congress alike."
---
Follow Stories Like This
Get the Monitor stories you care about delivered to your inbox.