State of the Union: Will Obama's push to the center appeal to the left?
Obama's State of the Union address will emphasize both job creation and deficit reduction, a centrist agenda. In an appeal to his base, the president sends his backers a video preview.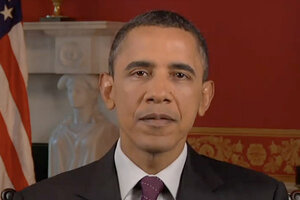 BarackObama.com screen capture
Nearly three months after his self-described "shellacking" in the midterm elections in November, President Barack Obama will deliver a State of the Union address that appeals to the political center, emphasizing both job creation and deficit reduction.
Mr. Obama, who has signaled in both word and deed a move toward the political center ever since the elections, has been buoyed by the stirrings of a recovery both in his job-approval rating and, perhaps not coincidentally, in the US economy.
Some political analysts are pointing to the flurry of year-end bipartisan legislation in the lame-duck Congress as one factor in Obama's resurgence in the polls, which included a significant recovery in his standing among independent voters, a key constituency.
But a centerpiece of that burst of legislation was a compromise with Republicans on the Bush-era tax cuts, a political deal that noticeably angered his liberal base. Now, as Obama puts forth his agenda to Congress and the country – at a time that some potential GOP challengers are engaged in pre-campaign throat-clearing – does he run the risk of further angering the Democratic left?
---