Can mayors make Jared Loughner the poster boy for gun control?
New York Mayor Michael Bloomberg is trying to force Congress's hand on gun control, suggesting that new laws could have kept guns out of the hands of Tucson shooting suspect Jared Loughner.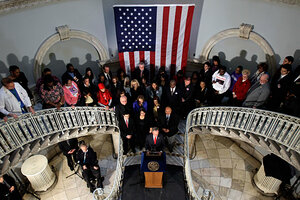 Seth Wenig/AP
As Congress begins its new session, New York Mayor Michael Bloomberg wants it to add one more piece of legislation: a bill to tighten up the nation's background checks on people buying a gun.
Mayor Bloomberg, who is co-head of Mayors Against Illegal Guns, says the no-buy registry is not up-to-date, and there are still loopholes that allow guns to be purchased without a background check.
Mayors Against Illegal Guns, which is made up of 550 mayors around the country, wants the background check to include the records of all felony convictions, domestic violence incidents and people with mental illness and a drug history. Secondly, it would like to require "occasional sellers" of firearms, such as people who sell weapons at gun shows or through ads, to be required to conduct background checks.
If the records were up to date, Jared Loughner, the man accused of shooting Rep. Gabrielle Giffords and and killing six others in Tucson, Ariz., Jan. 8, would not have qualified to buy a gun.
"As of Dec. 31 of last year, only 2,092 people were listed in the background check system as drug addicts or abusers," says Bloomberg. "That is just preposterous. We all know it and one of the missing names was that of Jared Loughner."
In September 2007 Mr. Loughner was arrested for possession of a controlled substance and an arresting officer wrote that there was a "strong odor of burnt marijuana coming off of Mr. Loughner's person." A year later, he was rejected by the military for drug use.
The political reality
---