State of the Union: The crafting of a speech
A former White House speechwriter tells what goes into drafting the State of the Union address and how the annual message to Congress has changed since the days of quill pens.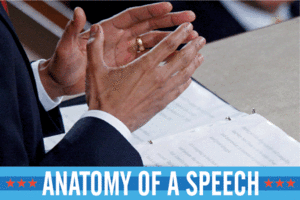 Pablo Martinez Monsivais/AP Photo-John Kehe/Staff illustration
The election was over. He'd won. But there was still something gnawing at Woodrow Wilson in the winter of 1913.
Teddy Roosevelt! So unfair! People dismissed Wilson's victory over Roosevelt, the volatile former Rough Rider. They said Wilson had won only because William Howard Taft had split the Republican vote.
They said that in a two-man race, Roosevelt, who ran as the "Bull Moose" candidate, would have romped over the schoolmasterish former president of Princeton. Preposterous!
What bold step could he take to out-Roosevelt Roosevelt? To make people see him in a new light?
Well, in 1801 Thomas Jefferson had decided that making a speech of what was then called the "President's Annual Message" looked too "kingly" – like the pomp-filled "Speech from the Throne" delivered by those hated British monarchs. Ever since, American presidents had just written out the message. Aides carried it over to Congress.
What about going back to the way George Washington did it? Why not... read it in person!
You might think this a modest step.
It created an uproar.
"SENATORS FROWN ON WIL­SON'S VISIT, Reading is Compared to Speech From Throne," said The New York Times.
"BREAKS OLD PRECEDENT," said The Washington Post. "Washington is amazed."
---