Federal budget battle: Can Congress avoid a government shutdown?
GOP proposals to cut the federal budget range from $100 billion to $500 billion to a symbolic $1.5 trillion. With Democrats wary of stifling the economic recovery, the divide just may be too wide.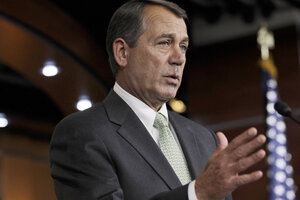 Charles Dharapak/AP
Congress heads into a new budget season with an unusually broad disparity of views on the way forward, signaling that "getting to yes" on a budget deal could be especially difficult this year.
In his State of the Union address, President Obama offered a bifurcated vision: a five-year freeze on discretionary federal spending, expected to save $26 billion over the five years, but also new investments in education, renewable energy, infrastructure and basic research. Net spending: to be determined in the president's FY 2012 budget, to be released next month.
House Republican leaders are calling for even deeper spending cuts, beginning in the current fiscal year. On Tuesday, the House voted to reduce non-security related discretionary spending to fiscal 2008 levels. Fifteen moderate Democrats joined Republicans in this otherwise party-line vote, which passed 256 to 165.
Deficit commission plan: Four points of contention – and agreement
But there is a wide range of views within GOP ranks on how deep the cuts should go, effective this year. House GOP leaders are calling for $100 billion annualized. That's about $60 billion for 2011, since the fiscal year began on Oct. 1.
By contrast, Senate Democrats are wary of spending cuts when the economy is still recovering.
---