Obama's State of the Union long on US greatness, short on austerity
President Obama called on America to maintain greatness through innovation. In his State of the Union address Tuesday, he also proposed cuts in defense and a partial budget freeze.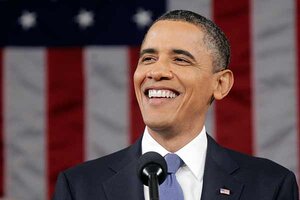 Pablo Martinez Monsivais/AP
In laying out his vision for government amid a new political reality, President Obama appealed to Americans' long-held sense of exceptionalism and played down the steep fiscal challenge ahead born of unsustainable federal spending.
But then, this was the State of the Union address, and "prepare for pain" hardly makes for a stirring headline that reassures citizens – particularly those still looking for a job and wondering if the new economic reality will ever work for them.
Mr. Obama framed his speech Tuesday night around the theme of "winning the future," a call to maintain American greatness through innovation in a rapidly changing world. He harkened back to the cold-war era, when the space race with the Soviet Union spurred invention and exploration – a race the United States eventually won, as it landed a man on the moon.
RELATED: Top 5 presidential orators of modern times
"This is our generation's Sputnik moment," Obama said, referring to the Soviet satellite launch in 1957 that both scared and inspired Americans.
---