Tea party austerity plan: Would slashing US spending work?
Cutting $2.5 trillion in government spending over 10 years is the tea party's first step toward its 'small government' vision. Whether such measures will boost the economy or add jobs is a leap of faith, economists say.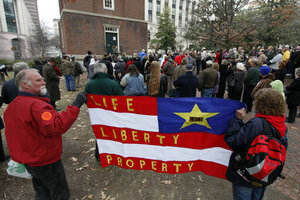 Steve Helber/AP
Can America cut its way to prosperity by reducing government spending by hundreds of billions of dollars – starting now and for each year to come for 10 years?
That's the assertion of tea party conservatives and fiscal hawks in Congress, whose economic plan would reduce government spending by a collective $2.5 trillion within a decade. Most nondefense government spending would get cut by 40 percent, and the share of the gross domestic product attributed to government would drop from 25 percent to 18 percent. The eventual benefit, supporters of the plan say, would be a reinvigorated private sector.
Contrast that with President Obama's competing vision for a renewed economy. His economic fix, as outlined Tuesday in the State of the Union address, is to invest in the education and energy sectors, hold the line for five years on so-called discretionary spending – which has jumped 84 percent in the past two years – and slash corporate tax rates, a strategy that helped kick-start the economy in the 1960s and mid-1980s. He offered a relatively modest $400 billion in spending cuts over five years (not including cuts in defense).
RELATED: Tea party Top 10 winners and losers
The idea that American prosperity depends on shrinking the size and spending of "big government" is hardly new. It was an often-espoused tenet of President Ronald Reagan (under whose administration government spending actually grew, as did the economy). Now that it is finding reborn preeminence in the tea party fold – and in Congress – the approach is being reexamined by economists, journalists, lawmakers, and sundry number-crunchers. Their verdict on how well it would work?
---