Jerry Brown's ploy to save $1.8 billion for California schools
California Governor Jerry Brown would cut nearly 400 local redevelopment agencies, which use property taxes for construction, redevelopment, and beautification projects. Mayors object.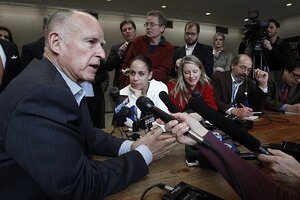 Rich Pedroncelli/AP
A key element of California Gov. Jerry Brown's bid to close a $28.1 billion budget gap could hinge on the fate of hundreds of little-known government agencies that siphon local property taxes from local schools.
Governor Brown is proposing the elimination of nearly 400 local redevelopment agencies (RDAs), which use a portion of local property taxes in certain blighted areas to invest in construction, redevelopment, and beautification projects. With the state on the hook for reimbursing schools for that lost tax money – to the tune of about $1.8 billion a year – Brown is suggesting that California can no longer afford that cost.
He has come under criticism from dozens of mayors who say the move will be catastrophic. Some have gone out of their way to call his idea "hypocritical," in that Brown's own residential loft in Oakland was an award-winning example of development funded partly by the kind of agency Brown wants to eliminate. Moreover, Brown's eight years as mayor of Oakland were arguably one of the most ambitious urban-restoration periods in modern California history.
"This budget proposal to eliminate redevelopment is more budget smoke and mirrors that will bring little financial gain for the state but will cause widespread and significant economic pain in communities throughout California," wrote John Shirey, head of the California Redevelopment Agency, in a statement.
---