State of the State: Jerry Brown twists Republican arms – with a smile
Jerry Brown's State of the State met expectations: 15 minutes focused on his plan for closing California's $25.4 billion deficit, with just a touch of humor to try to bring Republicans on board.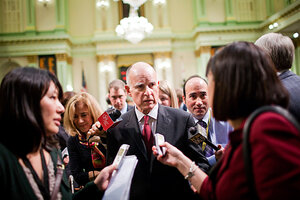 Max Whittaker/Reuters
Gov. Jerry Brown's State of the State address was everything most experts said it would and could be: serious, focused, not without humor – and very short.
In about 15 minutes, he stuck Monday to the sober task of how to close the state's $25.4 billion deficit by pushing on Republicans to agree to the special election he needs in June for voters to raise taxes. Frankly, but without being caustic, he quickly touched on the extended levies on income, sales, and cars needed to close that gap.
"He ratcheted up pressure on Republicans in the legislature but was very careful not to sound like he is threatening voters," said Dan Schnur, director of the Jesse Unruh Institute of Politics at the University of Southern California. "He's been very careful not to do that while at the same time making sure they know there are worse options."
---
Follow Stories Like This
Get the Monitor stories you care about delivered to your inbox.