Health-care repeal fails in Senate: What's the next GOP target?
The Senate rejected a bid to repeal Obama's health-care law on a party-line vote Wednesday. The GOP is ratcheting up pressure on potentially vulnerable Senate Democrats in 2012.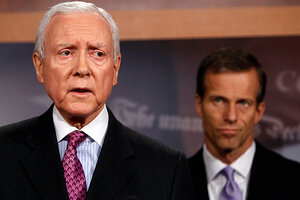 Jacquelyn Martin/AP
In a retake recalling the film version of "Groundhog Day," the Senate today redebated the 2010 health-care reform law – this time, in a bid to repeal it.
The measure to repeal was proposed as an amendment to the Federal Aviation Administration Reauthorization bill. It failed a procedural challenge on a strict, party-line vote, 47 to 51. On. Jan. 19, House Republicans voted to repeal the health care law, 245 to 189. They were joined by three Democrats.
But today's vote is only one skirmish in a struggle over the historic law likely to run into 2012 elections – and especially targeting Senate Democrats up for reelection.
"These are the first steps in a long road that will culminate in 2012," said Sen. John Cornyn (R) of Texas, after today's vote. "We will continue to expose flaws and faults in this legislation … and the courts will continue to review it."
Senate majority leader Harry Reid (D) of Nevada said that he allowed the Republican amendment to come to the floor – a rare event in recent years – so that the Senate could move on to work on jobs and the economy. "We want to get this out of their system very quickly," he said at a press briefing on Tuesday.
With Democrats controlling the Senate and President Obama wielding a veto pen at the White House, the prospects for outright repeal are remote. Instead, Republicans will push for votes to dismantle incrementally the most unpopular elements of the reform. Even if these votes fail, they put vulnerable Democrats on record in time for the 2012 vote.
---