Value added tax: Senate weighs a tax reform Reagan once shunned
As president, Ronald Reagan, was 'not enthused' by the idea of a value added tax (VAT) in America. But at a Senate hearing this week, tax reform experts pushed for it.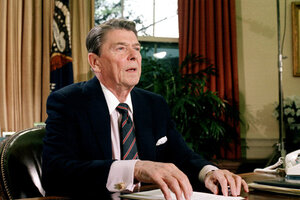 AP/File
Here's one thing on which Republicans and Democrats generally agree: Reforming the US tax code is needed and could give a major boost to America's fiscal and economic health.
But the political challenge – how to settle the details of reform – was visible Wednesday in a hearing on tax reform held by the Senate Budget Committee.
A focal point of the discussion was whether the US should impose a value-added tax (VAT), which would be similar to a federal sales tax. Other advanced economies lean heavily on such taxes as a way to efficiently collect revenue in a way that's compatible with economic growth.
It's an idea that has long been controversial, especially with Republicans. Ronald Reagan, in the spotlight this week because of the 100th anniversary of his birth, declared in 1985 that he was "just not enthused" by the idea.
One concern, then and now: A VAT could become a backdoor tax hike that might be out of view to most Americans.
Fast forward a quarter-century. Republicans at Wednesday's hearing weren't ruling out a VAT, but they weren't declaring themselves enthused, either. It remains a tough sell politicially for a variety of reasons. (Note, though, that President Reagan himself didn't say "never" back in 1985.)
Tax policy experts at the hearing, including a prominent conservative, said the idea should be a centerpiece of tax reform.
---