Planned Parenthood under fire after release of ACORN-like 'pimp' videos
Antiabortion activists have released videos showing Planned Parenthood workers allegedly colluding with a man posing as a pimp to exploit underage sex workers. It is part of a broader campaign against Planned Parenthood, the nation's largest provider of abortions.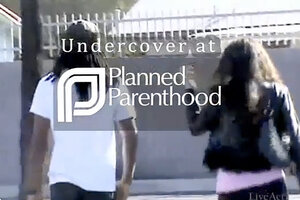 YouTube
An antiabortion activist group is targeting the federally funded Planned Parenthood Federation of America in a series of undercover videos showing clinic workers apparently colluding with a man posing as a pimp to cover up exploitation of 14- and 15-year-old immigrant sex workers.
The group, Live Action, is following in the footsteps of James O'Keefe, the conservative activist who used similar undercover videos – also using a "pimp" scenario – to expose corruption inside ACORN, an advocacy group for the poor. ACORN lost its federal funding after the scandal and is now essentially defunct.
Run by O'Keefe protegée Lila Rose, Live Action is attempting to do the same thing to Planned Parenthood, which offers abortion as part of comprehensive reproductive-health services primarily to poor women and receives $363 million from federal, state, and local governments, according to a company spokesman. The organization performs about 300,000 abortions every year according to its annual reports, making it the largest abortion provider in the US, though federal mandates prevent it from using taxpayer dollars on abortions.
---