Obama's plan to win 2012 presidential election takes shape
President Obama's State of the Union, along with the speeches that have followed, point to a blend of Kennedy vision and Reagan optimism to 'win the future' and fend off GOP challengers in the 2012 presidential election.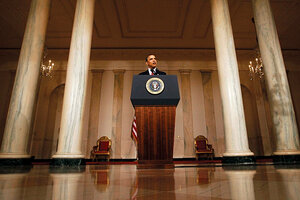 Larry Downing/Reuters
After a State of the Union message long on soaring rhetoric and short on specifics, President Obama now has to deliver the goods. The unemployment rate has to keep heading downward or he can probably forget about a second term, analysts from both parties agree.
But there's a long way to go between now and the 2012 presidential election, and there's more to the campaign than the monthly jobs report. Already, the larger outline of competing narratives is coming into view.
For Mr. Obama, the themes are competitiveness and entrepreneurship, with a Kennedyesque focus on technology blended with Reaganesque optimism. Government is a partner of the private sector, not an impediment to it, Obama asserts.
For the Republicans, the counter­narrative centers on getting government out of the way, and exercising fiscal responsibility as the path to recovery.
"We hold to a couple of simple convictions: Endless borrowing is not a strategy; spending cuts have to come first," Rep. Paul Ryan (R) of Wisconsin said in his GOP response to the State of the Union message.
The Republican Party's image with the American public has improved of late. It is more favorable (47 percent) than unfavorable (43 percent) for the first time since 2005, according to a Gallup poll taken before the State of the Union message.
---