Republicans vs. Republicans: When are federal budget cuts too deep?
House Republican leadership wants to rein in the federal budget by $32 billion from current spending levels. But some of the rank-and-file want $100 billion in cuts – or more.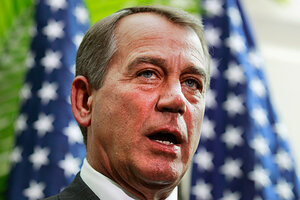 Alex Brandon/AP/File
After voting together on issues ranging from repeal of health-care reform to ending taxpayer funding of presidential campaigns, House Republicans are struggling to close rifts in their new majority over this year's projected $1.5 trillion deficit.
At issue is how fast and how far to rein in the size and scope of government. House GOP leaders propose cutting $32 billion from current spending levels. The Appropriations panel is on track to release draft legislation laying out new spending proposals to reach this goal on Thursday.
But many conservatives, especially tea party freshman, want significantly deeper cuts – closer to the $100 billion level promised in last fall's GOP Pledge to America. The projected deficit for FY 2011 is $180 billion higher than the deficit in FY 2010.
Last month, 86 GOP conservatives signed a letter to Speaker John Boehner calling for the full $100 billion. Sen. Rand Paul (R) of Kentucky, who founded the Tea Party Caucus, says that the Congress should aim for $500 billion in cuts for fiscal year 2011, to jump start the massive cuts needed to rein in a $1.5 trillion deficit.
"If the original bill does not get all the way to $100 billion in savings, we plan to offer an amendment that closes the gap," says Brian Straessle, a spokesman for the 176-member Republican Study Committee, the conservative wing of the House Republican caucus.
---