Should California sell property to raise cash? Jerry Brown calls off a deal.
Gov. Jerry Brown canceled the sale of 11 state-owned buildings for $1.2 billion, saying the deal arranged under Schwarzenegger didn't make sense and would cost California more in the long run.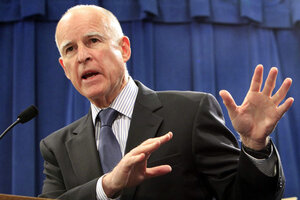 AP
Gov. Jerry Brown, who has been receiving kudos from political analysts for sticking to his promises on how to turn California's fiscal fortunes around, said Wednesday he will forego the sale of 11 state buildings to raise cash, a move that "didn't really make much sense."
The sale of the buildings, which would have netted $1.2 billion to help plug California's budget deficit of $25.4 billion, was negotiated by the administration of former Gov. Arnold Schwarzenegger.
Following the deep recession, several states have been considering the sale of state properties to close record budget deficits, among them Pennsylvania, Arizona, and Connecticut. But Governor Brown came to office determined to put his foot down and get America's most populous state to stop making national headlines every year for what he considered its dysfunctional approach to finance.
---