Two vulnerable senators, two opposite paths on tea party
Republican Sens. Richard Lugar of Indiana and Orrin Hatch of Utah could face tea party challenges in their 2012 primaries. But while Hatch is embracing the tea party, Lugar is fighting it.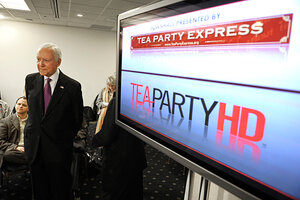 Cliff Owen/AP
This is a tale of two senior senators, both Republican, both up for reelection in 2012, both eager to win. And their approaches to the tea party couldn't be more different.
Six-term Sen. Orrin Hatch (R) of Utah is wooing the populist conservative movement. At a Tea Party Express town hall Tuesday night at the National Press Club, Senator Hatch said that he's "very impressed" by the role the tea party is playing in helping "America to take back America."
Sen. Richard Lugar (R) of Indiana, also in his sixth term, is pushing back hard, telling the tea party: "get real." He made the comment Monday to News Channel 15 in Fort Wayne, Ind., specifically about tea partyers' opposition to the new START arms control treaty with Russia, which Senator Lugar championed. But that comment could summarize his overall attitude toward the tea party.
---