Unemployment 101: Who pays for jobless benefits, anyway?
Employers pay state and federal taxes to cover all those unemployment checks. But with unemployment at 9 percent, those taxes aren't enough, leaving some states in dire straits.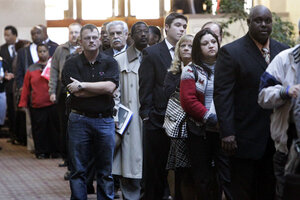 LM Otero/AP/File
The Obama administration is trying to change the way the unemployment insurance system is funded.
The administration claims that its plan – to be unveiled when President Obama proposes his 2012 budget on Monday – prevents a tax increase on business and helps cash-strapped states.
Republicans call it a "job-destroying" tax hike on business and a bailout for states that are overly generous with their jobless benefits. Here are some fundamental questions and answers concerning how the unemployment insurance system works.
RELATED: Job market's still tough. Seven ways to reenergize your job search.
What's behind this battle?
At the moment, employers pay a state tax for each employee. The money pays for all those state-issued unemployment checks – the first 26 weeks of them, anyway.
Employers also pay a per-employee federal tax, which funds administrative costs of implementing the system.
But because the unemployment rate – now at 9 percent – has remained relatively high for so long, 30 states have exhausted their funds and have had to borrow $41 billion from Uncle Sam. The biggest borrowers are California, Michigan, New York, Pennsylvania, and Illinois.
---