With lawsuit, Arizona tries to stare down Obama on illegal immigration
Arizona is suing the federal government, saying the Obama administration has failed to uphold its duty to prevent rampant illegal immigration. It's Arizona's latest bid to undercut federal authority.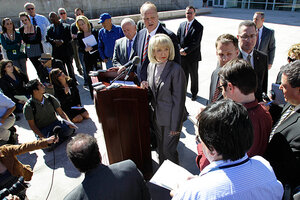 Matt York/AP
The lawsuit filed by Arizona against the federal government Thursday has little chance of legal success, an expert says. But that might not be the point.
Arizona has been at the forefront of an effort to undercut Washington's authority over border and immigration issues since it passed Senate Bill 1070, the law – now in legal limbo – that would have made law-enforcement officials check the documents of people who might be illegal immigrants.
With this lawsuit, Arizona appears to be trying to up the ante, using whatever means available to try to chip away at federal authority – or at least bully Washington into taking up border and immigration reforms.
"The current administration in Arizona, the governor, and the state Legislature seem to be engaged in a big battle with the federal government to try to declare some level of independence from federal control," says Paul Bender, a constitutional scholar at Arizona State University.
Arizona's charges
---