Young conservatives storm Washington for CPAC. Bring on 2012, they say.
Half of the 11,000 attendees at the Conservative Political Action Conference (CPAC) are college students. They're hoping to reproduce the youth enthusiasm of 2008 – but this time against Obama.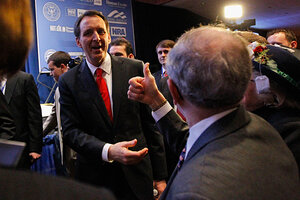 Alex Brandon/AP
Looking over the sea of faces in the ballroom at the Marriott Wardman Park, one could be forgiven for thinking they were at a convention of College Republicans.
Fully half of the 11,000-plus attendees at this year's Conservative Political Action Conference are college students, according to CPAC organizers. And for many, spending three days in Washington with like-minded young people who aren't in love with President Obama is a welcome relief. They witnessed the youth power that Mr. Obama harnessed in 2008, and now it's their turn. Bring on 2012, already. It's time for change they can believe in.
Many aren't sure who they want to support, but it's early. Most of the potential GOP presidential field are speaking here, and so coming to CPAC is one-stop shopping. Plus, it's fun to meet politicians – maybe even the next president of the United States.
"Either Huckabee or Pawlenty," says James Tuttle, a media studies major at Penn State, when asked who he likes. "Probably leaning toward Pawlenty."
---