Republicans take a $100 billion whack at Obama budget
Bending to party conservatives – notably tea partiers – House GOP leaders propose steep cuts in many popular programs for the rest of the fiscal year. Will it lead to a government shut-down?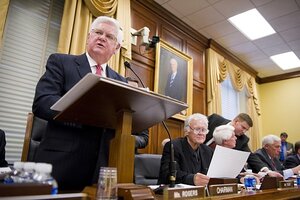 Newscom
In a move that has "tea party" written all over it, Republicans in the House of Representative propose to cut spending for the rest of this fiscal year by what they claim is "the largest single discretionary spending reduction in the history of Congress."
Will it pass? That's unlikely, given Democratic control of the Senate and President Obama's authority to veto what's called a "continuing resolution."
Still, the action sets the scene for what could be a knock-down-drag-out political fight. And while the amount in question is just a fraction of overall government spending, it wallops many popular programs – including some highly favored by the Obama administration.
RELATED: Five ways Republicans will change the House
"The CR contains over $100 billion in cuts compared to the President's request – fully meeting the spending reduction goal outlined in the Republican 'Pledge to America' while providing common sense exceptions for our troops and veterans," says Rep. Hal Rogers (R) of Kentucky, chairman of the House Appropriations Committee. "These cuts go far and wide, and will affect every community in the nation."
"These were hard decisions, and I know many people will not be happy with everything we've proposed in this package," he said. "That's understandable and not unexpected, but I believe these reductions are necessary to show that we are serious about returning our nation to a sustainable financial path."
---