Did Obama ignore his own deficit commission on federal budget?
Critics claim that the federal budget proposed by President Obama does nothing to tackle the structural causes of the deficit. Others counter that the time might not be right to go to battle over the deficit commission's findings.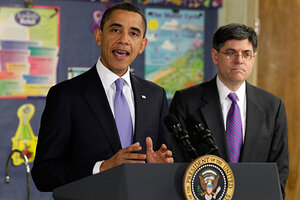 Carolyn Kaster/AP
Deficit hawks are expressing frustration that President Obama's budget proposal does not address the elephant in the room: the nation's growing fiscal imbalance, driven by the skyrocketing health-care costs of retiring Baby Boomers.
"The budget contains language that notes the importance of addressing our nation's structural deficits, however, it is largely void of concrete proposals and specific timelines for addressing them," said David Walker, the nation's former comptroller general and founder of the Comeback America Initiative, in a statement.
Mr. Walker notes that while the president's budget proposes $1.1 trillion in savings over 10 years, total federal spending over that period will continue to grow "well in excess of inflation, primarily due to the continued expansion of entitlement programs and other forms of mandatory spending."
In a briefing for reporters Monday afternoon, the first question White House budget director Jack Lew took centered on this issue: Why does the budget not propose comprehensive deficit reduction along the lines of the bipartisan deficit commission's recommendations of last December?
Mr. Lew defended the administration's approach, saying that the budget "draws heavily" on suggestions from the commission, including those related to corporate-tax reform, medical-malpractice reform, and the handling of surplus federal property.
And, he said, "this budget does accomplish what was the task given to the commission, which was to bring the deficit down to 3 percent of the economy so that we would have a sustainable level of federal financing in the future."
---