Does Obama budget 'win the future'? Six ways he wants to boost innovation.
The Obama budget proposal for 2012 includes significant funding increases for scientific research and science education. But some supporters of an innovation agenda say it isn't ambitious enough.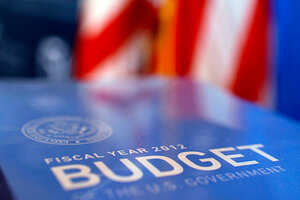 Molly Riley/Reuters
Over the past three weeks, President Obama has been hammering on one major domestic theme: "winning the future" by investing to make the economy more innovative and competitive.

On Monday, the president moved to put his budget money where his mouth is. Mr. Obama's proposed 2012 budget includes significant funding increases for scientific research and for educating young Americans in math and science.

His budget drew sharp criticism from Republicans, who say the best way to make America's economy more competitive is through deep spending cuts that rein in the size of government. Meanwhile, even supporters of an innovation agenda take issue with some of Obama's specific proposals – or argue that his plans should be even more ambitious.
RELATED: Can economy's 2010 growth spurt last? Five clues.
The White House concedes that its pitch represents an effort to set priorities against a backdrop of a big squeeze, with Obama proposing cuts in discretionary spending and Republicans seeking even bigger cuts.

The budget "puts the nation on a path to live within our means so we can invest in our future," the budget document says. "It targets scarce federal resources to the areas critical to winning the future: education, innovation, clean energy, and infrastructure."
Top priorities
---