California cities' latest budget trick: fine out-of-towners for car crashes
California cities are adopting 'crash taxes' that fine out-of-town motorists who are found at fault in accidents that require a response from emergency personnel. The fines can exceed $2,700.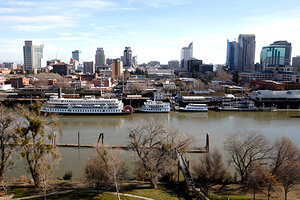 Rich Pedroncelli/AP/File
California cities driven to desperate measures by their own deficits as well as the trickle-down effect of the state's budget dysfunction are pioneering the controversial use of "crash taxes."
This month, Sacramento will become the 60th California city to charge a fee to motorists who are found to be at fault for an accident requiring an emergency response. Like many of the cities that have passed similar measures, Sacramento will levy the fee – which could run from $495 to $2,275 – on nonresidents only.
Critics say the fees are unfair, and they point to unsurprisingly strong opposition to such plans in a recent opinion poll. Ten states, including Florida and Pennsylvania, have already approved legislation restricting the practice.
But supporters say these services need to be paid for somehow, and deep budget deficits require new thinking. Cities including New York, Denver, and Tulsa, Okla., are debating the idea.
The problem is particularly acute in California, because a series of ballot initiatives during the past 40 years has starved local governments of cash. The stuttering economy has made the shortfalls worse, with Sacramento facing a $35 million deficit this year, for example.
"It is evident that cities and counties have been victims of the recession as well, but the state has done nothing but give them more and more duties which are not funded," says Barbara O'Connor, director of the Institute for Study of Politics and Media at California State University, Sacramento.
---