In Wisconsin standoff, a test: Has governor gone overboard to trim deficit?
Wisconsin Gov. Scott Walker wants state workers to pay more for their pensions and health care, while taking away their unions' collective bargaining power. The governor says he has no choice in order to trim a $3.6 billion deficit. But state workers are livid.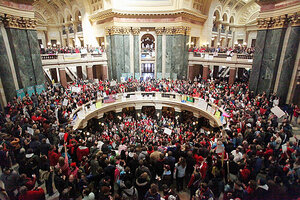 Craig Schreiner/Wisconsin State Journal/AP
A standoff at the Wisconsin state Capitol between the governor and public employee unions is becoming a test case for state executives across the nation who are burdened with having to cut deep into budgets to shore up their states' finances.
Wisconsin Gov. Scott Walker (R) is advancing a bill that will force most state, local, and school employees to pay half their pension costs and pay 12.6 percent of their health-care costs, which is double their current contribution.
Additionally, unions representing workers other than police, firefighters, and troopers will lose their collective bargaining power with the state on anything but wages, and raises will be limited to inflation. Non-law-enforcement unions will also be forced to hold annual elections to remain certified, and workers no longer will enjoy the ability to deduct union dues from state paychecks, steps that are being seen as further weakening union power in the state.
Governor Walker says the cuts will result in a savings of nearly $30 million through the end of June and nearly $300 million over the next two fiscal years. His state is braced with a $137 million budget shortfall for the fiscal year ending June 30 and a projected $3.6 billion gap over the next two years.
Both chambers of the state legislature, which Republicans newly dominated as a result of the November elections, are expected to pass the measures as early as Thursday.
---