Chicago mayor's race: What the candidates promise
Less than a week from Election Day, top candidates in the Chicago mayor's race talk spending freezes and consider bringing a casino to the city.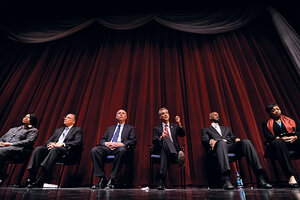 Paul Beaty/AP
Maybe it's the cold wind off Lake Michigan, but the pace of change in Chicago's City Hall has always been glacial. For 43 of the past 56 years, a Daley has ruled Chicago, meaning many residents don't know anything different.
But the current election cycle is a game changer. Mayor Richard M. Daley is retiring after 22 years, and not a single Daley is running for mayor. The race to replace the current mayor is split among four leading candidates: former White House Chief of Staff Rahm Emanuel, former US Sen. Carol Moseley Braun, former Daley Chief of Staff Gery Chico, and Chicago City Clerk Miguel del Valle.
Voters will go to the polls Feb. 22, and if no candidate wins a majority of the vote, a runoff will take place in April.
"[The new administration] is going to be very different," says John Mark Hansen, a political scientist at the University of Chicago. "Daley was able to draw upon a lifetime of contacts and alliances, in some cases dating back to his father's days. None of the candidates have that, and nobody could."
For the eventual winner, the biggest task will almost certainly be putting the city on better financial footing. Chicago is groaning under a $654.8 million budget deficit and nearly $600 million in pension obligations, but the public is wary of having their taxes raised or services cut to make up the differences. The next mayor nonetheless will have to reprioritize how the city spends money.
---