Union battle echoes beyond Wisconsin: 'We're fighting for our very existence'
Other states are watching Wisconsin's bid to virtually break labor unions as a means of cutting huge deficits. Unions in Wisconsin and beyond see this as a Waterloo moment.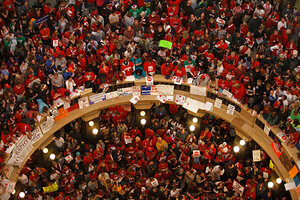 Andy Manis/AP
About 40,000 public-sector employees crammed into the Wisconsin state Capitol and surrounding blocks in Madison Thursday, hoping to sway three Republican state senators to block a bill they say is designed to wipe out 50 years of union labor laws in the state.
"We're fighting for our very existence," says Mike Lipp, president of Madison Teachers Incorporated, representing 2,500 public school teachers in the city.
The political drama was set in motion Monday when Wisconsin Gov. Scott Walker (R) proposed a bill that he says is necessary shore up the state deficit. The bill would force workers in non-law-enforcement unions to pay more for their pension and health benefits, remove their collective-bargaining power on anything but wages, force members to vote every 12 months to certify their union's existence, and bar them from deducting union dues from state paychecks.
---