House descends into federal budget-cutting chaos, just as planned
House amendments to cut the federal budget kept coming Friday, with Senate Democrats and the White House steeling for a fight. But Republicans say it's 'the House working its will.'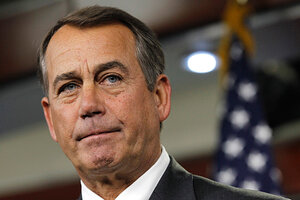 Alex Brandon/AP
The House's seemingly chaotic bid to cut tens of billions of dollars from the federal budget continued Friday as lawmakers sought to bring the process to a close – though it remains unclear when, exactly that might be.
Friday's developments followed the general theme of this week's budget-cutting frenzy: House Republicans offering amendments with the dual purpose of trimming the deficit and attacking priorities of the Obama administration. Some of the amendments targeted Obama's health-care reforms, enforcement of environmental laws, and implementation of new Wall Street regulations.
But among the scores of votes, some also splintered in unexpected ways, with the Republican majority leader in one instance siding with Democrats.
To Speaker John Boehner, it was "the House working its will." This week's marathon debates marked a clear break with the past decade of House politics, where leaders tightly controlled floor debate and typically banned amendments. Mr. Boehner had pledged to allow legislators to have their say, and GOP leaders have not demanded party unity.
The result, however, has been a piece of legislation that, even in its unfinished state, President Obama and Democratic leaders in the Senate say they cannot accept. If the House and Senate fail to agree on a new funding bill – or the White House fails to sign it – by March 4 the government will shut down.
---