Wisconsin protest shows state's evolving political history
Protesters filled Wisconsin's state capital for a week, demonstrating against Gov. Scott Walker's plan to cut union bargaining rights. How has the state's political mood shifted from left to right?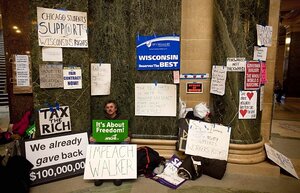 Darren Hauck/Reuters
With nearly 70,000 people storming the Capitol steps of Madison, Wis., last week and more expected to fill the city's streets in the days ahead, the growing clash between union rights protesters and state legislators bent on fixing enormous budget holes looks likely to get messier before it is resolved.
But why Wisconsin and, more important, why now?
Besides the Green Bay Packers and dairy farms, the state is largely, and quite unfairly, seen outside the Midwest as a beatific backwater. The truth is, Wisconsin's middle-of-the-road voting pool and history of maverick political leadership continue to make it a bellwether for national voting trends.
Take Wisconsin Gov. Scott Walker.
The urgency of his agenda just months after he election shows he is eager to take on not just Democrats, but also his own party, much in the tradition of former Gov. Tommy Thompson, whose battles for welfare reform and school choice in his state led the way for national policy changes.
Governor Walker served in the state Assembly during the Thompson years. At that time, between 1993 and 2002, he flexed his conservative muscles by supporting welfare reform and a cap on state spending.
---