Dems, GOP in Congress begin dance to avert government shutdown
Each side offers to fund government for 30 days past March 4, the current deadline to prevent a government shutdown. But GOP wants even that stopgap measure to include spending cuts.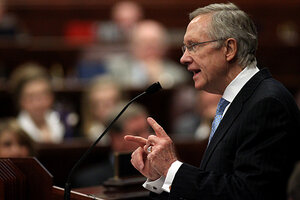 Cathleen Allison/AP
To avoid a government shutdown in less than two weeks, Senate and House leaders on Tuesday moved their parties closer together, slightly, in a bid to allow more time to negotiate spending cuts in the current fiscal year.
Senate majority leader Harry Reid (D) proposed a 30-day extension of government funding beyond the current March 4 deadline. The proposal includes no new spending cuts – a key demand of House Republicans, who on Saturday voted to slice an additional $61 billion out of spending for the current fiscal year.
But the 30-day extension represents a shift for Senator Reid, who said the extra month would be used to negotiate "responsible" spending cuts with House Republicans. Just last week, Senate Democrats said spend cuts in the current fiscal year could derail America's economic recovery.
"It would be the height of irresponsibility to shut down the government without any negotiations, as Republicans are threatening to do," the majority leader said Tuesday in a statement. "It is time to drop the threats and ultimatums, and work together on a path forward. I am asking Speaker Boehner to simply take the threat of a government shutdown off the table, and work with us to negotiate a responsible, long-term solution."
On the House side, Republican leaders rejected Reid's offer as not serious about cutting spending, but – in a shift – opened the door to a stop-gap measure, with spending cuts.
"The House has passed legislation to keep the government running until October while cutting spending. If Senator Reid refuses to bring it to a vote, then the House will pass a short-term bill to keep the government running – one that also cuts spending," said Speaker John Boehner, in a statement.
Last week, Mr. Boehner said he would not bring a new spending bill to the floor that does not include cuts, period. But he denied that Republicans are proposing a government shutdown. "Not one Republican is talking about a shutdown; it's [House Democratic leader] Nancy Pelosi and Harry Reid," he said, in remarks to reporters off the House floor on Friday.
---