Why neither side is blinking in Wisconsin's union-GOP budget showdown
Unionized civil service workers and Gov. Scott Walker remain miles apart over collective bargaining as Wisconsin budget showdown continues. What will it take to break the deadlock?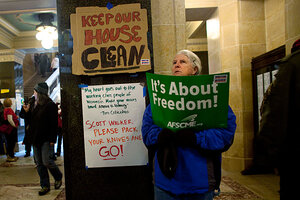 Darren Hauck/Reuters
Wisconsin Gov. Scott Walker (R) isn't budging on his vow to scale back collective bargaining to reduce the power of public employee unions and enable him to trim state spending. Thousands of pro-union protesters swarming the state Capitol in Madison are dug in just as hard.
With the Wisconsin labor unrest now into its eighth day, compromise seems to be only a distant possibility.
The Democratic contingent of 14 state senators remains in hiding outside the state, thus preventing Senate action on the governor's bill, which Republicans have the votes to pass. Governor Walker, for his part, warned Tuesday that layoffs of state workers may begin next week if the Democrats don't return to the capital. He also sought to shore up public support for his "do not yield" position, announcing he would hold an F.D.R.-style "fireside chat" Tuesday evening – in front of an unlit fireplace at the Capitol.
---