Why the budget deficit is so hard for Congress to shrink
Congress has less and less leeway for closing the budget deficit as outlays for entitlement programs grow.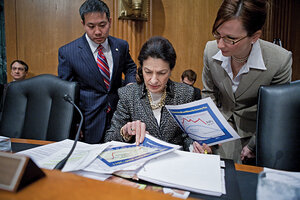 Keith Lane/Special to The Christian Science Monitor
Why are members of Congress making a federal case out of cutting government spending? You just get out your paring knife and whittle a little or a lot, as the case may be, out of things like the Amtrak subsidy, defense contracts, NASA, and education grants. Right?
Not so fast. Even if Congress takes a machete to those kinds of government expenditures – called discretionary spending – it will barely make a dent in the budget deficit. That's because a growing share of the US budget is dedicated to entitlement programs for retirees and the indigent and to paying interest on the national debt – none of which is part of Congress's annual budget cycle or easy to reduce.
Fifty years ago, Congress had greater control. More than two-thirds of federal spending fell into that discretionary category. Next fiscal year, discretionary spending is expected to account for just over one-third of the budget pie. Rule out cuts in defense spending (which many lawmakers want to do), and the share of the budget over which Congress has discretion falls to 12 percent.
Deficit commission: Four things both sides may agree on
That's why focusing cuts on high-speed rail or public broadcasting won't do much to contain soaring federal deficits and an unsustainable national debt, analysts say.
"Domestic discretionary spending is a very small area of the budget," says Maya MacGuineas, president of the Committee for a Responsible Federal Budget, a bipartisan group dedicated to educating the public about fiscal policy. "You're not going to fix this massive problem by focusing on this tiny slice of the budget pie."
---
Follow Stories Like This
Get the Monitor stories you care about delivered to your inbox.