Immigration fight: Bill to end 'birthright citizenship' advances in Arizona
A Senate panel on Tuesday gave a nod to a set of bills that deny 'birthright citizenship' to children born to illegal immigrants in Arizona. Other measures to continue the state's illegal immigration crackdown are also moving ahead.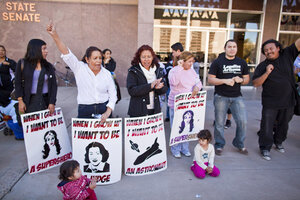 Jack Kurtz/ZUMA Press/Newscom
Arizona lawmakers aren't finished yet in their push to make life more difficult for people living in the state illegally. Less than a year after passing a tough immigration law that prompted protests, boycotts, and a federal lawsuit, they are advancing an array of new measures to crack down even harder on illegal immigration – with some of the proposals just as likely to attract legal and civic resistance.
In a challenge to US Constitution's 14th Amendment, a Senate panel in the Republican-controlled state legislature late Tuesday gave the green light to two companion bills that would deny automatic US citizenship, sometimes called "birthright citizenship," to children born to illegal immigrants.
Other measures that are moving ahead would make it a crime for illegal immigrants to drive, would require schools to ask for proof of legal status from students, and would force employers to comply with E-Verify, a federal program that screens worker eligibility. Lawmakers here also are considering whether hospital personnel should check if patients are in the country legally.
---