In Wisconsin's long shadow, unions and tea partyers face off across US
Police have separated union activists and tea party supporters in Atlanta, Denver, Des Moines, and Columbus, as tensions rise over a Wisconsin push to curtail collective bargaining.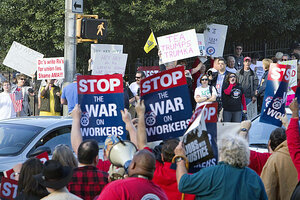 David Goldman / AP
Protests sparked by a push from Wisconsin Republicans to gut collective bargaining for unions – in order to balance the state budget – continue to spread, with several state capitals witnessing vitriolic faceoffs between union protesters and tea party activists this week.
About 300 union protesters and about 100 tea party activists taunted one another in front of the gold-domed Georgia Capitol in Atlanta on Wednesday, in a scene echoing similar standoffs earlier in the week in Columbus, Ohio; Des Moines, Iowa; and Denver, Colo.
Meanwhile, deadlock continues in Madison, Wis., ground zero of the debate over public-sector union benefits and their impact on deficit-burdened state coffers. Democratic senators there have decamped for Illinois in protest – and to thwart a quorum for a vote on the union-targeting legislation. A similar episode is playing out in Indiana, where the state legislature is also controlled by Republicans.
Across the country, Democratic-backed unions and Republican-backed tea party activists – essentially ideological alter egos – are facing off on the streets. The dueling protesters want to show solidarity with their respective causes and to voice their opinions in a high-stakes debate that could rewrite long-standing social compacts.
---