Why did Wisconsin Gov. Scott Walker take a call from 'David Koch'?
Wisconsin Gov. Scott Walker thought he was having a friendly chat with David Koch, a billionaire industrialist and major funder of conservative causes. It turned out to be a liberal prankster.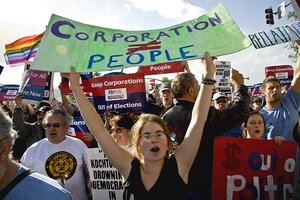 Newscom
Who are billionaire brothers George and David Koch, and why did Wisconsin Gov. Scott Walker take a call from "David Koch" – actually a liberal prankster – who recorded a conversation that may prove embarrassing to Governor Walker?
The Kochs are one of the major business forces fighting unions. A big part of their effort has been funding the campaigns of conservative, union-fighting gubernatorial candidates like Walker, John Kasich in Ohio and Rick Perry in Texas – to the tune of $1.2 million in the last election, including donations from company employees and subsidiaries.
Collectively, the Koch group was Walker's second-largest contributor last year, just behind realtor and developer interests. They've also founded and are major funders of the tea party-related "Americans for Prosperity," which just launched a $342,200 ad campaign in support of Walker.
IN PICTURES: Wisconsin capitol protests
Walker's 20-minute conversation with someone he thought was a top campaign donor with a strong philosophical and financial interest in fighting unions may be an embarrassment to the new Wisconsin governor. (Did he really mean it when he said he'd "thought about" hiring outside agitators to disrupt pro-union demonstrators who've packed the Capitol building in Madison for more than a week? Or when he joked about taking a baseball bat to his political opponents?)
---
Follow Stories Like This
Get the Monitor stories you care about delivered to your inbox.