Wisconsin governor to missing senators: Come back or I'll lay off 1,500
Wisconsin Gov. Scott Walker says the state Legislature can't attend to crucial fiscal business while 14 Senate Democrats remain out of state to avoid a vote on a bill that would clip union rights. If the stalemate drags out, Walker said he'll have to make layoffs.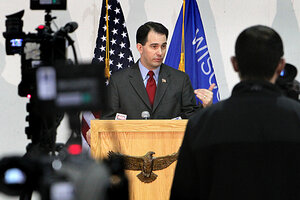 Erik Daily/La Crosse Tribune/AP
Wisconsin Gov. Scott Walker (R) is ratcheting up the pressure on 14 Senate Democrats who fled the state two weeks ago to avoid voting on a bill that critics call a deliberate attempt to kill many of the state's public unions.
Without the the 14 senators, the Wisconsin Senate can do nothing because it lacks a quorum. But Governor Walker is now saying that the renegade contingent must be in session in Madison Tuesday to vote to restructure the state's debt, a move he says will save $165 million.
Walker is suggesting that if Democrats are not present to authorize the readjustment, he may have to start cutting state jobs, though he didn't say when. The first cut would be 1,500 workers, and the reduction might ultimately spread to 12,000 state, local, and school employees.
Some Democrats are saying the deadline is arbitrary and that the restructuring will actually cost Wisconsin taxpayers in interest because it simply spreads the debt over the next 10 years.
---