Federal Reserve chief warns GOP: Don't hold debt-ceiling vote hostage
Federal Reserve Chairman Ben Bernanke approves of plans to bring federal deficits under control, but he tells senators not to link such a move to a coming vote on raising the debt ceiling.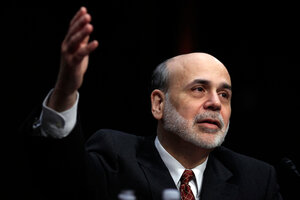 Jim Young/Reuters
Federal Reserve Chairman Ben Bernanke waded into a contentious Washington debate Tuesday, telling a Senate committee that he is "worried" about Republican efforts to link a decision on the nation's debt ceiling to passage of reforms to curb federal spending.
"It's extremely important that you address this issue" of long-term federal deficits, Mr. Bernanke said. "I'm just worried about using the debt limit as the vehicle" for reforms.
By stating that, the Federal Reserve chairman in effect sided with the Obama administration and its Treasury secretary, Tim Geithner.
The nation's federal debt is close to hitting a $14.3 trillion ceiling set by Congress. The Treasury says it will reach the cap sometime between this month and May, and Secretary Geithner has asked Congress to raise the limit.
Some congressional Republicans say they may oppose raising the ceiling on the national debt unless the move is paired with budget reforms.
---