Republicans fear 'war on the West' in new wild lands protection
Western Republican lawmakers and governors object to Obama administration plans to consider whether millions of acres of federal land in the West should be protected as 'wild lands.'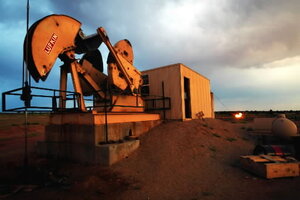 Robert Harbison/The Christian Science Monitor/File
Western Republican lawmakers and governors are up in arms over the Obama administration's plan to consider whether millions of acres of federal land in the West should be protected as "wild lands."
Their outrage is setting the stage for a new round of the "sagebrush rebellion" over land use in the West – a battle that could have repercussions for Election 2012.
The Obama administration's plan would require federal agencies to manage such land primarily to preserve its wilderness characteristics – which could mean restrictions on commercial uses, including oil and gas development as well as motorized recreation. In essence, the new thrust reverses a 2003 Bush administration policy opening up federal land to more extractive uses.
In congressional testimony this week, Rep. Denny Rehberg of Montana called it a "war on the West."
Noting that royalties from mineral development help pay for public schools, Utah Gov. Gary Herbert, said, "This order hinders rural economic development and hurts key funding sources for Utah's school children."
Idaho Gov. Butch Otter urged Congress to "take back its authority" and block the new policy. (Under the Wilderness Act of 1964, only Congress can officially designate "wilderness" – areas "where the earth and community of life are untrammeled by man, where man himself is a visitor who does not remain.")
---