Wisconsin public union fight brings threats of layoffs, recalls
Wisconsin Gov. Scott Walker is threatening to lay off state workers if Democrats don't return to vote on his budget measure. Opponents are preparing petitions to recall Republican lawmakers.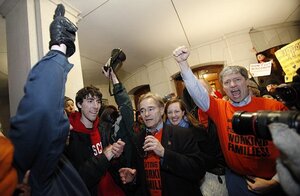 Andy Manis/AP
The two sides in Wisconsin's "Badger rebellion" over public employee unions are threatening to escalate the conflict.
Gov. Scott Walker (R) has issued layoff warning notices to public employees. The move is aimed at forcing Democrats in the state Senate to return home and vote on his "budget reform" bill, which would also do away with most collective bargaining rights for unionized workers.
"If the Senate Democrats come back to Wisconsin, these notices may be able to be rescinded and layoffs avoided," his office announced in an e-mail. "Without Senate action within 15 days, individual employees may begin to receive potential termination notifications."
Initial layoffs would target 1,500 state workers, a number that could rise to 12,000 if the budget standoff were to continue.
All state workers, except those at prisons, state hospitals, and other facilities open 24 hours a day, would be potential layoff targets, Governor Walker told the Associated Press. "I pushed it off as long as I could because I do not want to have layoffs."
Meanwhile, political opponents fighting Walker's effort to rein in unions have begun recall procedures against the eight Republican state senators eligible for recall this year. (Under Wisconsin law, elected officials in office for at least a year may be recalled. Because he was elected governor just last fall, Walker himself could not yet be recalled.)
The Service Employees International Union and the liberal group MoveOn.org are pushing the recall effort. At the same time, conservative groups have registered to gather signatures for a measure that would boot from office six of the eight Democratic senators in office long enough to be recalled.
---