Mitt Romney tries to explain 'RomneyCare.' Will it work?
Speaking to Republican activists in New Hampshire, likely presidential candidate Mitt Romney addressed a major challenge: The health care program he took credit for as governor of Massachusetts. Critics say it's a lot like "ObamaCare."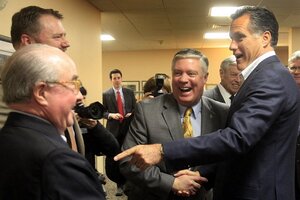 Jim Cole/AP
At last, Mitt Romney is tackling head-on his major stumbling block to winning the GOP presidential nomination next year: The health care program he promoted and took credit for when he was governor of Massachusetts – which President Obama has said was the model for the national health care reform law derided by conservatives.
Will Romney be able to sufficiently distinguish "RomneyCare" from "ObamaCare" – even though both have an individual mandate requiring coverage?
In the important first presidential primary state of New Hampshire Saturday, he tried mightily.
"Our experiment wasn't perfect – some things worked, some didn't, and some things I'd change," Romney acknowledged in speaking to conservative activists at the Carroll County Lincoln Day Dinner in Bartlett, N.H.
"Our approach was a state plan intended to address problems that were in many ways unique to Massachusetts," he said. "What we did there as Republicans and Democrats was what the Constitution intended for states to do – we were one of the laboratories of democracy."
Then he laid into the new federal law.
---